This case is part of the IMLS funded project, "Enabling Smart, Inclusive, and Connected Communities: The Role of Public Libraries." For this project, the Center for Technology in Government (CTG UAlbany) and the American Library Association (ALA's Center for the Future of Libraries partnered to better understand how public libraries can advance their role as community anchors in smart city initiatives by contributing to the community's understanding of and participation in such initiatives.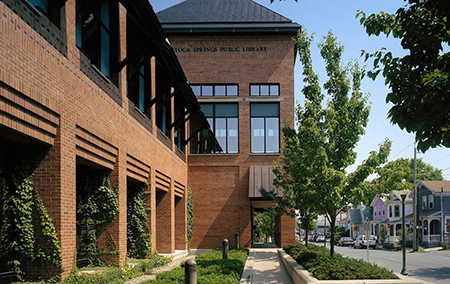 During late 2018 and early 2019, the project research team conducted four in-depth case studies in Chattanooga, Tennessee; Chicago, Illinois; Ignacio, Colorado; and Saratoga Springs, New York.
The Saratoga Springs Public Library (SSPL) was opened in 1995 and has a 58,626 square feet building. It is located on 1.92 acres in downtown Saratoga Springs, one block east of Broadway between Henry and Putnam Streets. The library is chartered to serve the residents of the Saratoga Springs Enlarged City School District.
Funds to operate the library come primarily from the school district property taxes, and district residents must vote upon increases in local tax support. The SSPL's mission is to serve as a source for information, inspiration, and entertainment, which sustains and enhances the quality of life in the community by providing access to resources and experiences to help all of their residents satisfy their curiosity about the world and participate fully in civil society.
Saratoga Springs is a city in Saratoga County, New York, with a population of 49,070 (according to IMLS PLS data set). The city relies heavily on tourism as its main source of income during the summer season while the Saratoga Race Course meet is underway. Outside of downtown, the rest of the area served by the public library includes both suburban and rural locations.
In February 2016, a Smart City Commission was created to help set Saratoga Springs on a path to becoming a smarter city. As a civic development group, among others, it includes people from the school district, the chamber of commerce, the city hall, and several academic education institutions. The Roadmap defines SSPL as an information hub for the community that works to inform, inspire and entertain Saratoga Springs while narrowing the digital divide by providing public access to information and technology to the community.