This case is part of the IMLS funded project, "Enabling Smart, Inclusive, and Connected Communities: The Role of Public Libraries." For this project, the Center for Technology in Government (CTG UAlbany) and the American Library Association (ALA's Center for the Future of Libraries partnered to better understand how public libraries can advance their role as community anchors in smart city initiatives by contributing to the community's understanding of and participation in such initiatives.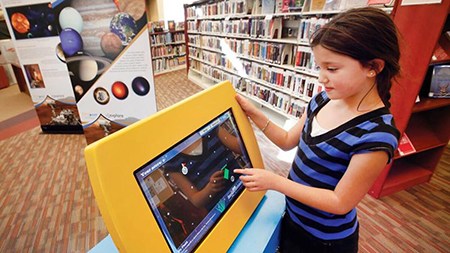 Inside the studio of the Chattanooga Public LibraryDuring late 2018 and early 2019, the project research team conducted four in-depth case studies in Chattanooga, Tennessee; Chicago, Illinois; Ignacio, Colorado; and Saratoga Springs, New York.
The official mission of the Ignacio Community Library is to be "a center that brings people and ideas together for learning and growth." The library is located in the Colorado town of Ignacio, but serves a larger community of over 5,000 residents living within approximately 240 square miles making up the Ignacio Community Library District.
The library now resides in an 11,000 sq. ft. building right in the heart of Ignacio. This new building was constructed in 2006 after the residents within the library district voted to approve a $2 million bond for its construction.
Ignacio has roughly 800 residents and sits in the southwest corner of La Plata County, Colorado. It is located about 24 miles southeast of its closest city, Durango, which has a population of about 18,500. The town and the larger library district can be characterized as rural and somewhat removed from any significant population centers.
Ignacio is situated in the middle of the Southern Ute Indian Tribe Reservation. While the Town of Ignacio is incorporated, it is surrounded by the sovereign nation of the Southern Ute Indian Tribe
The Ignacio Community Library's provision of access to high-speed Internet is foundational to its ability to help build a smart community in Ignacio. From our interviews we learned that the Ignacio Community Library is the only public computer and Internet provider in town. We heard that, "For some of the people in the rural areas where they might not have any Internet, people go there every day, check their emails and access the Internet from the library. So, it's a huge service that they provide."
The library serves a number of different population groups, but the primary beneficiaries are the students from the Ignacio Public School District.