This case is part of the IMLS funded project, "Enabling Smart, Inclusive, and Connected Communities: The Role of Public Libraries." For this project, the Center for Technology in Government (CTG UAlbany) and the American Library Association (ALA's Center for the Future of Libraries partnered to better understand how public libraries can advance their role as community anchors in smart city initiatives by contributing to the community's understanding of and participation in such initiatives.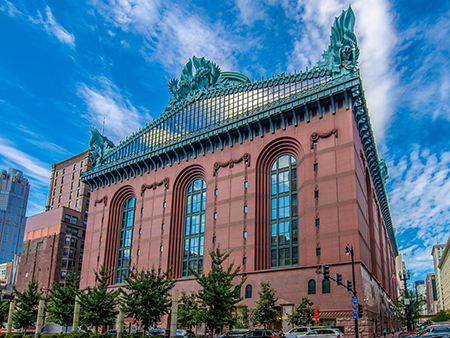 Inside the studio of the Chattanooga Public LibraryDuring late 2018 and early 2019, the project research team conducted four in-depth case studies in Chattanooga, Tennessee; Chicago, Illinois; Ignacio, Colorado; and Saratoga Springs, New York.
Much of this report is based on Chicago Public Library's (CPL) role in the city's 2013 City of Chicago Technology Plan. This document describes Chicago's strategy for helping the city become "smarter" through a number of initiatives. CPL was named as a key partner in several of these initiatives.
Since first opening its doors in 1873, CPL has served all Chicagoans with free and open places to gather, learn, connect, read and be transformed.
The Library's mission is to "welcome and support all people in their enjoyment of reading and pursuit of lifelong learning. Working together, we strive to provide equal access to information, ideas and knowledge through books, programs and other resources. We believe in the freedom to read, to learn, to discover." The library system's 81 branches are strategically located to provide the innovative library services, technologies and tools to the residents of a city that is made up of many different and diverse communities as described in the next section.